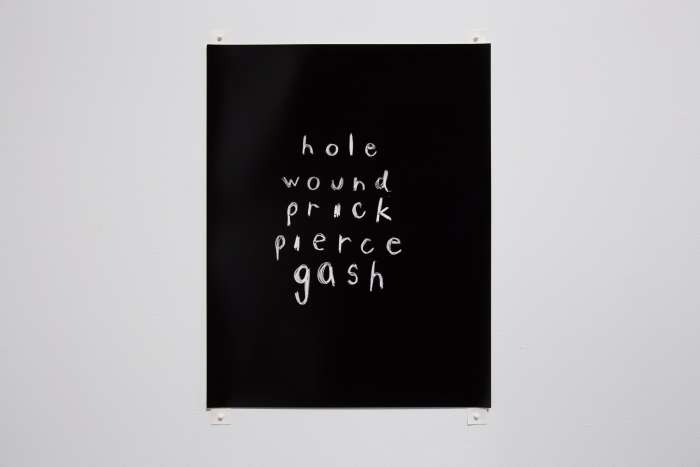 May 25–Jul 15, 2021 Online $700
Workshop
Light & Ink: Photography and Writing with Laura Larson
In this eight-week workshop, students will explore the generative possibilities between writing and photography in creative practice. How can language illuminate or disturb the seeming fact of a photograph? Can a photograph animate a text to create new meanings? Through readings and image presentations, we will study historical and contemporary works including books, prints, and installations. These discussions will feed weekly assignments where we will explore the material weave of image and text and its expressive potential to evoke, describe, and narrate. Students will produce a self-directed final project informed by their research.
The class will meet twice a week on Zoom—one 1-hour class and a second two-hour session. The one-hour class will be dedicated to lectures and discussion. During the two-hour session, we will critique assigned projects or work on in-class assignments. In addition, the instructor will meet with each student for a dedicated one-hour critique during the course of the workshop.
Participants who complete this workshop will have the opportunity to show work they create in the exhibition Selections from the Silver Eye Institute in our main gallery exhibition in August of 2021.
Experience Level: This workshop is ideal for advanced students and established artists, writers, and curatorial thinkers who are looking for new approaches and challenges in their practice.
Workshop Schedule
Week 1
Tuesday, May 25th 6-7pm, Lecture: Introduction
Thursday, May 27th 6-8pm, Critique or in class exercise: Listening to Photographs
Week 2
Tuesday, June 1st 6-7pm, Lecture: Narrative & Autobiography (Nicholas Muellner, Sophie Calle)
Thursday, June 3rd 6-8pm, Critique or in class exercise: Memory Palaces
Week 3
Tuesday, June 8th 6-7pm, Lecture: Mining the Archive (Carmen Winant, Sarah Lena-Maierhofer)
Thursday, June 10th 6-8pm, Critique or in class exercise: Orphans and Dustbins
Week 4
Tuesday, June 15th 6-7pm, Lecture: The Essay (Moyra Davey, Teju Cole, Claudia Rankine)
Thursday, June 17th 6-8pm, Critique or in class exercise: Verb & Preposition
Week 5
Tuesday, June 22nd 6-7pm, Lecture: Photopoetics (Bernadette Mayer, CD Wright & Deborah Luster)
Thursday, June 24th 6-8pm, Critique or in class exercise: Performance Strategies
Week 6
Tuesday, June 29th 6-7pm, Lecture: Material Interventions (Karen Greene, Jim Goldberg)
Thursday, July 1st 6-8pm, Critique or in class exercise: Presentation of final project proposals
Week 7
Tuesday, July 6th 6-7pm, Lecture: Performance Strategies
Thursday, July 8th 6-8pm, Critique or in class exercise: TBD
Week 8
Tuesday, July 13th 6-7pm, Final critique
Thursday, July 15th 6-8pm, Final critique
Workshop Size: 6-8
Participating Artist
Laura Larson has exhibited her work nationally and internationally, including Art in General, Bronx Museum of the Arts, Metropolitan Museum of Art, Museum of Fine Arts, Houston, SFCamerawork, Susanne Vielmetter/L.A. Projects, and Wexner Center for the Arts. Her exhibitions have been reviewed in Artforum, Hyperallergic, The New York Times, The New Yorker, and Time Out New York, and she has published artist projects in Cabinet, Documents, and The Literary Review. Her first book, Hidden Mother (Saint Lucy Books, 2017), was shortlisted for the Aperture/Paris Photo First Book Prize. She is the recipient of grants from Ohio Arts Council and the New York Foundation of the Arts, and of residency fellowships from MacDowell Colony, Santa Fe Art Institute, and Ucross Foundation. Since 2002, she's presented four one-person exhibitions with Lennon, Weinberg Gallery in New York. Her work is represented by Contemporary Art Matters in Columbus, OH.