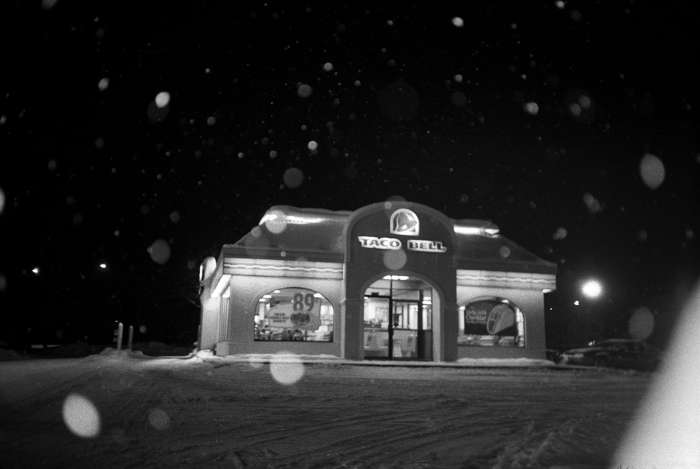 Nov 1–January 10 Silver Eye Center for Photography
Campaign
Annual Fund
Dear Friend of Silver Eye,
Thanks to you 2018 has been an incredible year for photography in Pittsburgh.
We created eight stunning, engaging, and original photography exhibitions by outstanding emerging, mid-career, and under recognized artist from around the world.
Thanks to you we developed a whole host of new hand-on programs from the Lab @ Silver Eye, including workshops, memberships, and artist residencies.
Thanks to you we launched Channel Silver Eye, a new independent and experimental film screening series in our Penn Avenue gallery that showcases bold voices in film you won't find anywhere else in our region.
Thanks to you photography has a home in Pittsburgh.
We are shattering our attendance records, expanding our educational offerings, and bringing, thoughtful, and engaging programming to more people than ever before. In 2019 we will keep bringing you fantastic exhibitions, talks, workshops, book fairs, publications, screenings, tours, and even more.
Most importantly we are creating a space for diverse, urgent, and cutting edge voices in fine-art photography. Our community needs to hear these perspectives and we need your help to make keep this space thriving.
Please make a donation to the Silver Eye 2018 Annual Fund Today.
Donors who support the Annual Fund have an immediate and meaningful impact on Silver Eye. These gifts support the core of our mission: our exhibitions, our artists, and our programming.
Gifts to the Annual Fund are fully tax deductible and gifts of $500 or more will receive a choice of framed, limited edition print from our Silver Eye Editions series.
Help us make 2019 another great year for photography in Pittsburgh.
Sincerely,
David Oresick,
Executive Director
Make a One Time Gift Start a Recurring Gift
Silver Eye has a variety of benefits for contributing at various levels:
Annual benefits include:
Discounted entry to Fellowship, our annual juried exhibition
Special event invitations for our shows, auctions, and books fairs
Discounts on workshops and tutoring at the Lab @ Silver Eye
10% Discount at Spaces Corners–Silver Eye Outpost (in store only)
Annual benefits include all previous benefits, plus:
Silver Eye tote-bag or t-shirt
Annual benefits include all previous benefits, plus:
A private tour of a Silver Eye exhibition
Annual benefits include all previous benefits, plus:
Annual benefits include all previous benefits, plus Director's Circle Donors are among the our most dedicated contributors and gain special access to the gallery, including private curator tours and Circle Previews—premier opportunities to see exhibitions before anyone else.
Matching Gifts
Want to increase the impact of your contribution to Silver Eye? Check to see if your employer offers a corporate matching gifts program.
Many local companies offer corporate matching programs to their employees to encourage philanthropic giving. Simply ask your Human Resources department to see if your company participates in matching charitable gifts, and request a form. Send us the form, and we'll take it from there!
For your reference, Silver Eye's Tax Identification Number is 25-1396717.
Gift Planning
Want to have a more lasting impact on Silver Eye? Consider letting your legacy benefit future generations of photography enthusiasts. There are many simple ways to include Silver Eye in your estate plans, such as naming Silver Eye in your will or living trust. Your gift can be a specific amount of money or a percentage of your estate. and you'll need to talk to your financial advisor about the option that offers the best financial benefit to you and to the organization. For questions about gift planning contact david@silvereye.org.
Photo credit: Sean Stewart, Untitled (Drive-by), 2010