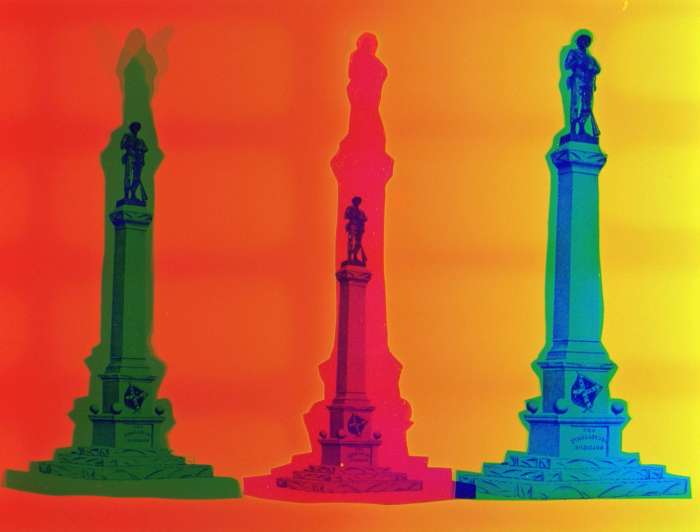 Thu, Apr 23, 2020,6:30 Silver Eye Center for Photography
Aaronel Deroy Gruber & Irving Gruber Gallery
4808 Penn Avenue
Pittsburgh, PA 15224 Free and Open to the Public
$10 Suggested Donation
Channel Silver Eye
TAKE IT DOWN! Recent Films by Sabine Gruffat and Bill Brown
In this collection of recent work by media artists Sabine Gruffat and Bill Brown, celluloid film serves as a material register and critical resource for interrogating the documentary image. Whether floating past the smokestacks and riverboat casinos that line the Mississippi River, or giving three cheers for the fall of Confederate monuments across North Carolina, Brown and Gruffat investigate new audiovisual languages for describing and deciphering life in the American South.
Films include Take It Down (Gruffat, 2018, 12:30), XCTRY (Brown, 2018, 6:18), Life On The Mississippi (Brown, 2018, 28:13), Framelines (Gruffat, 2017,10:14), and Amarillo Ramp (Brown + Gruffat, 2017, 24:10)
Participating Artists
Sabine Gruffat is a French-American artist who works with experimental video and animation, media-enhanced performance, participatory public art, and immersive installation. Sabine's films and videos have screened at festivals worldwide including the Image Forum Festival in Japan, the Viennale, MoMA Documentary Fortnight, Cinéma du Réel at the Centre Pompidou, and CPH:DOX. Sabine is also the co-founder with Bill Brown of the Cosmic Rays Experimental Film Festival in Chapel Hill, North Carolina.

Bill Brown is a media artist interested in ways landscape is interpreted, appropriated, and reconfigured according to human desires, memories, and dreams. His research interests include haunted houses, memorial architecture, and outsider archaeology. His films have screened at venues around the world, including the Rotterdam Film Festival, the London Film Festival, the Sundance Film Festival, and Lincoln Center.