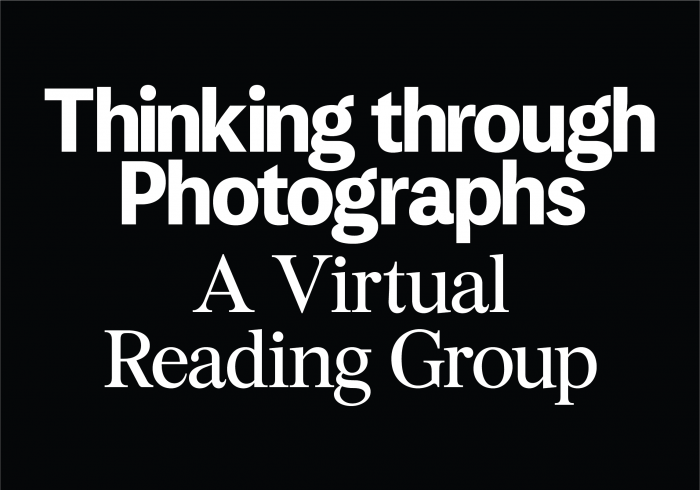 Sep 15–Dec 8, 2020 Online Free and Open to All
Reading Group
Thinking Through Photographs: A Virtual Reading Group
The University at Buffalo Art Galleries + Silver Eye Center for Photography will co-host a virtual reading group to take place in Fall 2020 and Spring 2021. Thinking through Photographs was originally developed as an in-person exhibition by Liz Park, UB Art Galleries curator, and now takes the form of a downloadable resource binder of texts which consider photography's complexities through eight different topics.
This free virtual reading group will meet regularly for eight sessions, covering one topic each meeting. A rotating group of guest artists, curators and writers will facilitate each meeting, bringing their own perspectives, specialties and selection of images for consideration along with the texts. This reading group is designed to be a participatory and accessible convening for all who are curious about photography's past, present and future to discuss the most vital issues facing the medium.
You can download the resource binder here!
––––––––––––––––––––––––––
Topic 1: Photographs in (1829) 2020
Tuesday, September 15th, 5:30pm EST
Facilitator: Liz Park
Curator of Exhibitions, University at Buffalo Art Galleries
––––––––––––––––––––––––––
Topic 2: Excess of Photographs
Tuesday, October 6th, 5:30pm EST
Facilitator: Dan Leers
Curator of Photography, Carnegie Museum of Art
––––––––––––––––––––––––––
Topic 3: Listening to Photographs
Wednesday, October 28th, 5:30pm EST
Facilitator: Dawit Petros
Assistant Professor of Photography, School of the Art Institute of Chicago
––––––––––––––––––––––––––
Tuesday, December 8th, 5:30pm EST
Facilitator: Zora J Murff
Assistant Professor of Art, University of Arkansas School of Art
and Co-Curator of the Strange Fire Collective