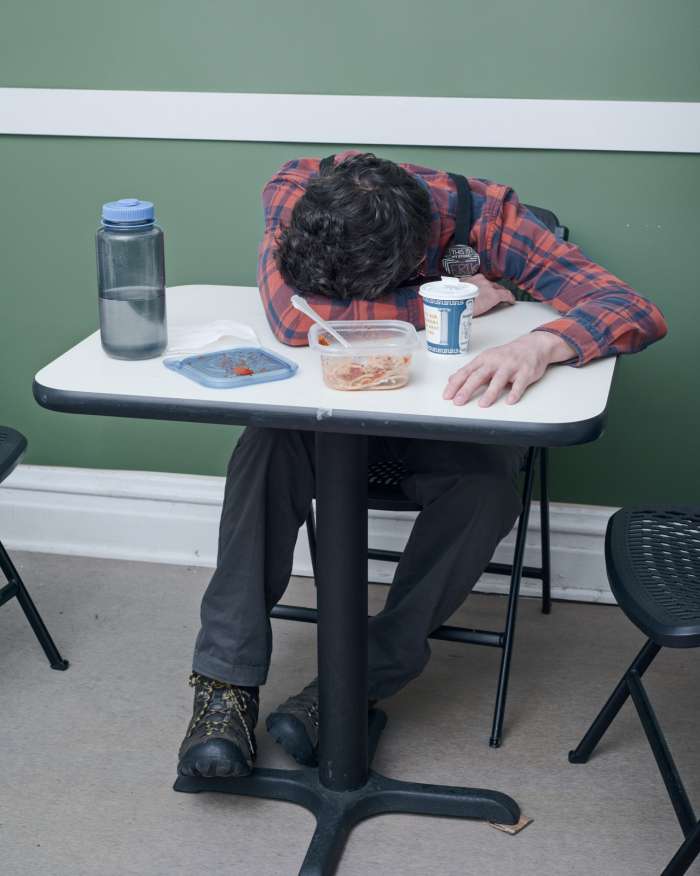 Tuesday evenings, 6-8pm, Feb 1–Mar 8, 2022 Online 300
Workshop
Working for a Living: Examining Life on the Clock through the Camera
In this virtual 6-week workshop Erik Hagen will take participants on a photographic exploration of their experiences at work, and examine the situations, nuances, rhythms, and relationships that they see in their daily lived experience on the clock. Hagen's personal projects, which represent an artist's search for meaning in his own low-wage employment in retail and as a taxi driver, act as a jumping-off point for a series of assignments around the theme of work.
Through lecture presentations Hagen will illuminate how the small, personal details of the workplace can relate to larger economic concerns, global labor politics, and affect the relationships we have with our loved ones, our homes, our finances, and our sense of self. No matter how we end up in a particular job, the job often ends up defining how we live our lives. Hagen will also present the work of a diverse group of artists who have made work about their jobs to introduce a range of possible approaches, including documentary, staged interventions, and memoir.
Participants will consider their own experiences as they build a small body of work through assignments that use the workplace as a point of departure. Implementation of writing, video, or other lens-based media in addition to straight photography is encouraged. Class meetings will include group discussion, in-class exercises and brainstorming, individual meetings with the instructor, and culminate in a final group critique. Participants will have the opportunity to exhibit work inspired by the workshop at the Silver Eye Gallery in Summer 2022.
Skill Level
This workshop is open to anyone, but ideally looking for participants who don't make a living solely from their artwork.
Workshop Schedule
This workshop meets weekly on Tuesday evenings from February 1, 2022 - March 8, 2022. All times Eastern Standard Time.
Week 1: Tuesday, 2/1, 6-8pm
Introductions & Inspiration
Discussion/Lecture
Writing Assignment: Personal Workplace Experience
Week 2: Tuesday, 2/8, 6-8pm
Review Writing Assignment
Discussion: Labor in Society
Week 3: Tuesday, 2/15, 6-8pm
Feedback Session
Working for a Living: Inspirational Lecture
Week 4: Tuesday, 2/22, 6-8pm
Breakout Groups: Peer Review
Peer Presentations
Week 5: Tuesday, 3/1, Schedule TBD
Individual Meetings with Instructor
Week 6: Tuesday, 3/8/22, 6-8pm
Final Critique
Disclaimer
This workshop encourages participants to explore their workplace photographically. However, Silver Eye does not support the use of photography, video or audio recording in a workplace against any existing policy that would restrict such activity. Participants are always expected to secure reasonable permission and make respectful accommodations for any activities related to their practice. Silver Eye accepts no responsibility for any action taken against any participant as it relates to activities assigned or recommended by the instructor or Silver Eye.
Participating Artist
Erik Hagen (b. 1985) explores the physical and psychological landscapes of low-wage service workers through personal documentary, staged photographs, and narrative text. The images—made during the artist's time working those same jobs—examine sense of self, inner monologue, and the monotony of daily life.

Hagen received his Master of Fine Arts from the University of Hartford, and has been awarded the Silver Eye Center for Photography Keystone Fellowship (2020) and the Hannes Wanderer Award (2019). His book They Name a Street After Him_, based on his experience driving a taxi in Los Angeles was published as part of the Penumbra Foundation Risograph Print & Publication Residency (2021). He is originally from the Gulf Coast of Florida and currently lives in Lancaster, PA.