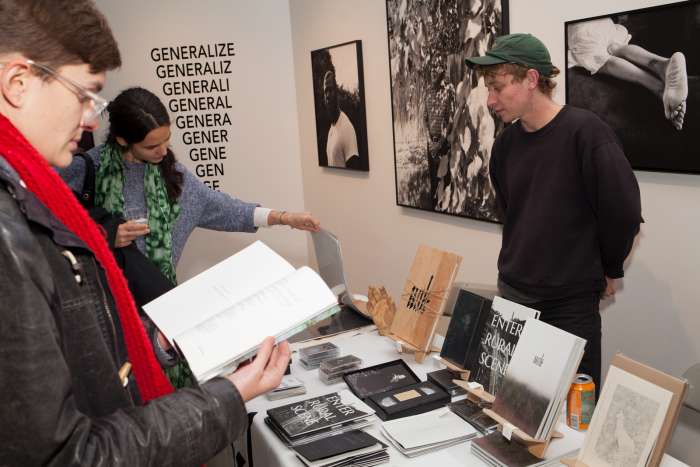 Fri, Oct 4, 5–10pm & Sat, Oct 5, 11–6pm Silver Eye Center for Photography
4808 Penn Avenue
Pittsburgh, PA 15224 Free and Open to the Public
$10 Suggested Donation
Fair
Silver Eye Book Fair
The annual Silver Eye Book Fair celebrates the beautiful, strange and utterly unique things happening in the world of photobooks. Shop the most innovative publishers, vendors, and artists from across the country. The fair also features presentations from the publishers and artists on their latest projects and panel discussions about the state of the art of photobooks.
Events
Sat, Oct 5, 1pm
Book signing for Christmas Day, Bucks Pond Road with Tim Carpenter
Book Fair Publishers & Artists
Aint-Bad
Aint–Bad is an independent publisher of new photographic art. Founded in Savannah, Georgia, the collective is dedicated to publishing contemporary photography and text to support a progressive community of artists from around the world through online web features, printed periodicals, monographs, and exhibitions.
Candor Arts
Candor Arts publishes books about life, learning, and healing. Operating on the basis of open and honest communication, the collective efforts of the organization are rooted in the support of its affiliated authors and collaborators. Specializing in handmade artist book editions, Candor Arts produces an expanding range of design and print projects driven by each artist's vision.
Clear As Day
Clear As Day is an artist collective which publishes and distributes both print and web based work. Founded by artists, Peter Happel Christian and Phillip Andrew Lewis, we are located in Minnesota and Tennessee. Clear As Day works with artists, writers and designers to invent, recycle and resurrect perceptions of the natural landscape.
My Idea of Fun
My Idea of Fun is an art and music archive focused on digital preservation of media and work with roots in Johnstown, Pennsylvania.
Nomadic Bookshelf
Nomadic Bookshelf is a nomadic bookstore currently located in Cleveland, OH. Their focus is on small publishers and artists actively producing and promoting their work through the book format. The artists Nomadic Bookshelf works with stimulate the evolving discussion and landscape of contemporary photography.
Visual Studies Workshop Press
VSW Press publishes books by artists, often in connection with work produced as part of our artist residency programs. Each title is made in collaboration with the artist in limited and open editions.
Silver Eye Center for Photography
Silver Eye will have a selection of signed photobooks from Aperture, along with publications by local artists.
Skylark Editions
SKYLARK EDITIONS is a non-profit publishing project based in Chicago and Atlanta that provides a platform for the creation and distribution of innovative photobooks by emerging and established artists.
Sleeper
Sleeper is a publishing project working with photography, design, and text to realize artists' ideas in printed form. Our interests lie in cultivating a fluid studio practice that values open, collaborative and equitable relationships with artists. Sleeper is Ben Alper, Peter Hoffman and Ross Mantle. It currently operates out of Durham, NC and Pittsburgh, PA.
Spaces Corners
Founded in 2011, Spaces Corners is an artist-run bookstore and project space based in Pittsburgh, Pennsylvania. The bookstore stocks a rotating selection of new photography books from some of the world's leading independent and small press publishing houses. In 2013, Spaces Corners launched it's own imprint to further collaborate with artists, institutions and collections.
TIS Books
TIS books believes that photobooks, grow of themselves. They are the unique expressive and communicative form – the offspring of a camera and a mind at work in the world – to which TIS books is dedicated.
Zatara Press
Zatara Press is an independent, small press, photography book publishing company created in 2014 by Andrew Fedynak, to give a voice to a variety of projects through the medium of unique "Artist's Styled Photobooks."