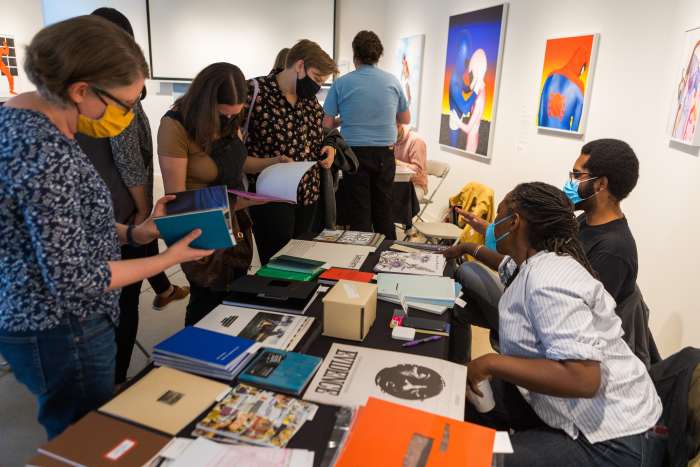 Oct 7–8, 2022 Silver Eye Center for Photography
4808 Penn Avenue
Pittsburgh, PA 15224
Book Fair
2022 Silver Eye Book Fair
The annual Silver Eye Book Fair celebrates the beautiful, unusual, and utterly unique things happening in the world of photobooks. Shop the most innovative publishers, vendors, and artists from across the country! The fair also features presentations from artists and publishers on their latest projects and the art of photobooks.
All Silver Eye Book Fair talks are free and open to all!
FRIDAY, OCTOBER 7: 4pm-9pm
7pm: Robert Slifkin on Chauncey Hare's Photographic Work
In this free talk, NYU art-historian Robert Slifkin will discuss his new book Quitting Your Day Job: Chauncey Hare's Photographic Work (MACK), the first critical biography of the American photographer Chauncey Hare (1934–2019). Copies of the book will be available for purchase and signing by the author after the talk.
SATURDAY, OCTOBER 8: 11am-5pm
Explore and collect photobooks from this year's selection of innovative publishers, vendors, and artists, and enjoy a program of short 30-minute talks throughout the day!
11am: Sandra Bacchi in conversation with Divya Rao Heffley
Sandra Bacchi's newly published book Watermelons are not Strawberries (Yoffy Press) portrays her pursuit of self-awareness while navigating challenges relating to parenting. Bacchi will discuss the development of her book with Divya Rao Heffley, Associate Director of the Office of Public Art, Pittsburgh.
2pm: Laura Larson in conversation with Mark Alice Durant
In her new book City of Incurable Women (Saint Lucy Books), Laura Larson combines archival imagery with her own contemporary photographs to explore the lives of 19th century women hospitalized at Pitié-Salpêtrière Hospital in Paris. Larson will discuss her artistic practice in conversation with artist and writer Mark Alice Durant.
3pm: Rich-Joseph Facun
The explorations of place, community, and cultural identity present themselves in Rich-Joseph Facun's life and photographic endeavors. The artist will discuss the development of his forthcoming book Little Cities (Little Oak Press), and its relationship to his earlier monograph Black Diamonds (Fall Line Press).
4pm: Lydia Panas in conversation with Maggie Jones
Artist Lydia Panas will discuss her practice in conversation with writer Maggie Jones. Panas' work combines photographic portraiture with psychological inquiry, paying close attention to issues of power and trust on both sides of the camera. Her book Sleeping Beauty (MW Editions, 2021) is a complex exploration of femininity.
Exhibiting Publishers
Empress Editions (Cleveland, OH) was founded by Anna Tararova and produces risograph and screen-printed zines and photo books.
Fungus Books (Pittsburgh, PA) presents a diverse selection of rare, new, and used books, records, and printed matter.
Industry of Light (Pittsburgh, PA) showcases a selection of contemporary photography books and supplementary literature.
Lightwork (Syracuse, NY) publications elevate the work of emerging and under-represented artists working in the media of photography.
Little Oak Press (Charlottesville, VA) produces zines, limited-edition artists books, maquettes, and social practice projects.
Pomegranate (Richmond, VA) showcases contemporary photography through limited edition publications and ephemera.
Saint Lucy Books (Baltimore, MD) publishes books by contemporary photographic artists and explores hidden histories of photography.
Sleeper Studio (Carrboro, NC and Pittsburgh, PA) is a publishing studio practice run by artists Ross Mantle and Ben Alper.
Zatara Press (Richmond, VA) founded by Andrew Fedynak gives voice to a variety of projects through unique "Artist's Styled Photobooks."