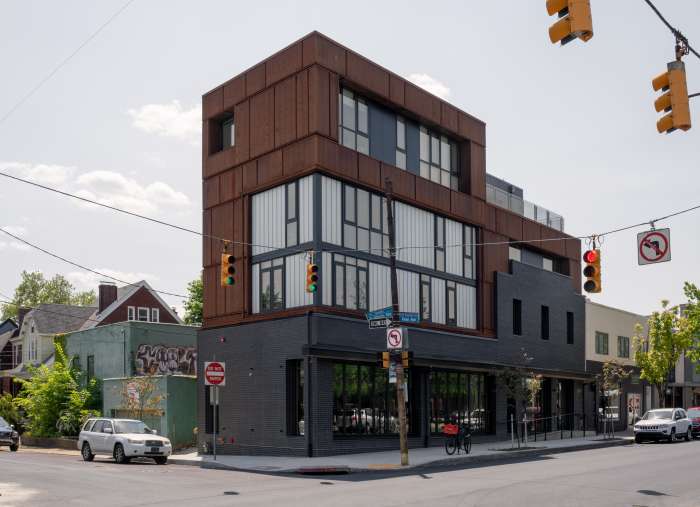 News
Announcing the new Lab @ Silver Eye!
The Lab @ Silver Eye is expanding!
Silver Eye is creating an Education Center where our growing community of photographers, artists, researchers, and art lovers can come together to create, learn, and connect.
Silver Eye is excited to announce that our digital lab is expanding and has relocated to 5228 Penn Ave., at the corner of Penn and Atlantic, five blocks from the gallery. The relocated digital lab and the new Education Center together will be The Lab @ Silver Eye, a vibrant new hub for artists in Pittsburgh and the Bloomfield-Garfield community.
Help us to bring this new creativity and learning hub to life by contributing to The Lab @ Silver Eye Launch Fund. Your support today will help us to furnish the space and create our initial round of programing. Our digital lab continues to produce our museum quality exhibitions and is a clean, well-maintained workspace available to lab members. Silver Eye supports emerging artists by providing production support through our lab, lowering the barriers to exhibition. The digital lab also can produce your organization's high quality printing project.
In coming months the Education Center will feature a range of programing including:
Salon and meet-ups
Portfolio reviews and sharing works in progress
Screenings
One-day and multi-week in-person Silver Eye Workshops and artist presentations
Artist-driven workshops
Youth workshops with a focus on teens in the Bloomfield Garfield community
Beginner/intermediate workshops
The Education Center will also feature:
Meeting space available for arts meetup groups
Silver Eye's Library of photobooks, open to visitors during events and by appointment
Dedicated editing suite for long-term projects and residencies
Share the news, join us for events and workshops, and contribute to The Lab @ Silver Eye Launch Fund to help make the Education Center a reality.
Support The Lab @ Silver Eye and join us in creating a new learning and creativity hub for Pittsburgh. We are here to provide resources and community to photographers. We look forward to welcoming you to The Lab @ Silver Eye!
Subscribe to the newsletter and follow us on Instagram to learn about events.