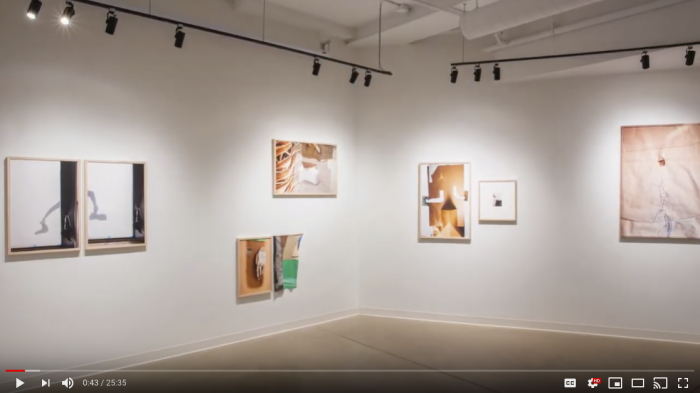 Thu, Mar 26, 2020 Volume 1
Studio Visits W/ Silver Eye
Barbara Weissberger
Studio Visits w/ Silver Eye is a new series of conversational, virtual studio and exhibition visits with artists from our community and beyond. In this episode Barbara Weissberger discusses her recent exhibition Mother, how she arrived at her exhibition's provocative title, how she combines sculpture with photography, her love of cardboard, and her absurd and sharp sense of humor. Studio Visits w/ Silver Eye is hosted by Executive Director, David Oresick.
Listen as a podcast on Apple Podcasts or Spotify!
Studio Visit Citations & Footnotes
Philip Guston was a Canadian-American artist known for his eclectic style and experimentation with figuration and abstraction. His use of amorphous imagery and fleshy, red and pink colors resonate especially strongly with Weissberger.
Abject generally connotes ideas of a very bad or severe state or condition, a popular use of the word stems from theorist Julia Kresteva, for whom the term applies to aspects of the body that are deemed impure or inappropriate for public display or discussion. It can also be used in reference to the human reaction to being reminded of our own mortality.
Trompe l'oeil comes from French, meaning to "deceive the eye", and in art, refers to the concept of representation of an object with such verisimilitude or accuracy that the viewer believes it to be real.
Phenomenology references to the complex philosophical study of experience, how we interpret or make meaning of our surroundings.
Diane Arbus was an American photographer, who is well known for her portraits of those living on the margins of society. Her images challenged the historical modes and conventions of distance between a photographer and the subject, resulting in photographs that are full of psychological intensity.
The aperture is the opening inside a photographic lens. The size of the opening in the lens that can be adjusted to control the amount of light reaching the film or digital sensor.
Vanitas comes from a 17th century Dutch genre of painting, in which the artist would include symbols that related to death and mortality such as skulls or extinguished candles, as well as luxury items such as musical instruments or books, to remind viewers of the vanity of worldly pleasures.
Participating Artist
Weissberger's photographs – and related photo-objects – contain familiar things and things that are confounding enough to sow doubt about the nature of those that are most identifiable. She started as a sculptor and is still deeply engaged with materials and making objects. Weissberger crafts many of the objects within her photographs, mingling found objects with the miscellany found in her studio. Her work has been shown at The Drawing Center, White Columns, PS1/MoMA, Gridspace (Brooklyn), Photoville (Brooklyn), and Hallwalls (Buffalo) in New York; Coop Gallery, Nashville; Big Medium, Austin; The Mattress Factory, SPACE Gallery and the Pittsburgh Center for the Arts, Pittsburgh; GRIN (Aldrich + Weissberger), Providence, RI; Artspace New Haven, Connecticut; ADA Gallery, Richmond, VA; and The Holter Museum of Art , Montana.