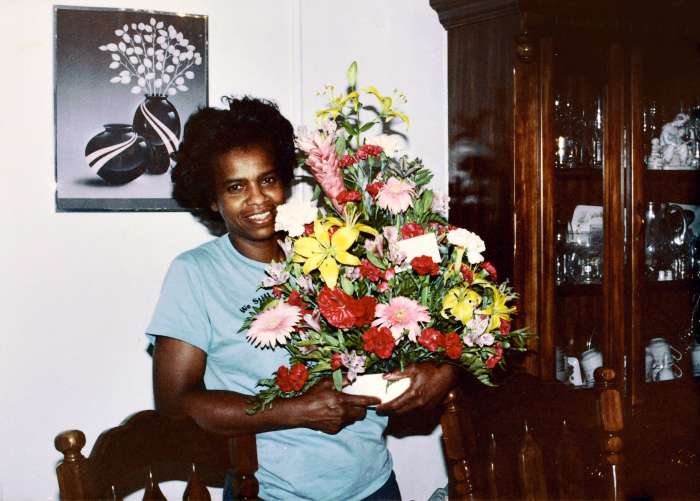 Wed, Dec 8, 2021,67 Online
Reading Group
Radial Survey Conversations: From Our Foremothers
For our first Radial Survey Conversation Liz Park, the Richard Armstrong Curator of Contemporary Art at Carnegie Museum of Art, Pittsburgh, will moderate a virtual conversation with exhibition's artist, Hannah Altman, Nadiya I. Nacorda, and Nakeya Brown centered around her catalog essay From Our Foremothers. (Page 14.)
Each artist will share their projects from the show and the moderator will lead a conversation with the artists on the big themes, small details, and connections and between the work discussed. Then there will be an opportunity for questions and answers and open discussion among the attendees.
Using the Radial Survey Vol. 2 catalog essays as a jumping off point, this free virtual reading group will meet regularly for three sessions, covering one topic each meeting. A rotating group of guest artists, curators and writers will facilitate each meeting, bringing their own perspectives, specialties and selection of images for consideration along with the texts.
Participating Artists
Hannah Altman is a Jewish-American artist from New Jersey and holds an MFA from Virginia Commonwealth University. Through photographic based media, her work interprets relationships between gestures, the body, lineage, and interior space.

She has recently exhibited with the Virginia Museum of Contemporary Art, Blue Sky Gallery, the Pittsburgh Cultural Trust, and Photoville Festival. Her work has been featured in publications such as Vanity Fair, Carnegie Museum of Art Storyboard, Huffington Post, New York Times, Fotoroom, Cosmopolitan, i-D, and British Journal of Photography. She was included in the 2020 Critical Mass and Lenscratch Student Prize Finalists and in the Silver Eye's 2021 Silver List.

She has delivered lectures on her work and research across the country, including Yale University and the Society for Photographic Education National Conference. Her first monograph Kavana, published by Kris Graves Projects, is in the permanent collection of the Metropolitan Museum of Art Thomas J Watson Library.

Nakeya Brown was born in Santa Maria, California in 1988. She received her Bachelor of Art from Rutgers University and her Master of Fine Arts from The George Washington University. Her work has been featured nationally in recent solo exhibitions at the Catherine Eldman Gallery (Chicago, IL, 2017), the Urban Institute for Contemporary Art (Grand Rapids, MI, 2017), the Hamiltonian Gallery (Washington, DC, 2017) and The McKenna Museum of African American Art (New Orleans, LA, 2012); and in group exhibitions at the Eubie Blake Culture Center (Baltimore, MD, 2018) the Prince George's African American Museum & Cultural Center (North Brentwood, MD, 2017), and the Woman Made Gallery (Chicago, IL 2016 & 2013), among several others . She has presented her work internationally at the Museum der bildenden Künste (Leipzig, Germany, 2018) and NOW Gallery (London, U.K., 2017). Brown's work has been featured in TIME, New York magazine, Dazed & Confused, The Fader, The New Yorker, and Vice. Her work has been included in photography books Babe and Girl on Girl: Art and Photography in the Age of the Female Gaze. She lives and works in Maryland with her daughters Mia and Ella.

Nadiya I. Nacorda is a Blasian artist currently living and working in Syracuse, NY. Her work draws heavily from notions of intimacy, affection, displacement, secrecy and generational trauma. She is an MFA candidate at Syracuse University and has exhibited at Candela Books +Gallery the Midwest Center for Photography among other spaces.