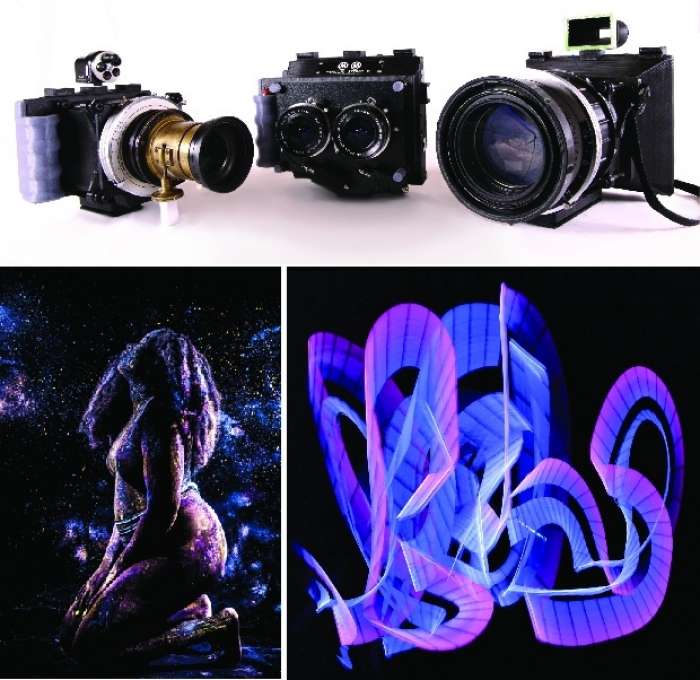 Sat, Apr 15, 2023,1112:30 4808 Penn Avenue
Talk
Hacking Photography
The history of photography is a history of innovations, with artists adapting existing technologies to meet new creative purposes. Join us to hear three contemporary innovators discuss how they reimagine photography's possibilities by modifying, customizing, and repurposing photographic technologies! Lori Hepner, Zach Horton, and Mikael Owunna will share from their practice, followed by an open discussion about the ways that we create the tools that we need.
This program is inspired by two current exhibitions at Silver Eye's main gallery: April Friges' In Absolute Space and Nicole Czapinski's always arriving.
Images: Top: Zach Horton, Mercury Camera set; bottom left: Mikael Owunna, Alawuala (The Land Which Is the Ultimate Earth); bottom right: Lori Hepner, Mercy Movement: Drawing with Light #3, 2022
Participating Artists
Lori Hepner is a Pittsburgh-based artist whose work from Drawing with Light, aims to make the invisible visible through movement, light, and time using programmable LEDs visualizing her photographic images. She is a professor of Integrative Arts at Penn State Greater Allegheny and is the 2023-24 Penn State Laureate.

Zachary Horton is a professor of Literature and Media Studies in the Department of English at the University of Pittsburgh. He is a filmmaker, photographer, game designer, and camera designer. His boutique camera company, Mercury Works, developed the first universal, open camera system in the history of photography.

Mikael Owunna is a Nigerian American multimedia artist, filmmaker, and engineer. Exploring the intersections of technology, art, and African cosmologies, his work seeks to elucidate an emancipatory vision of possibility that revives traditional African knowledge systems and pushes people beyond all boundaries, restrictions, and frontiers.