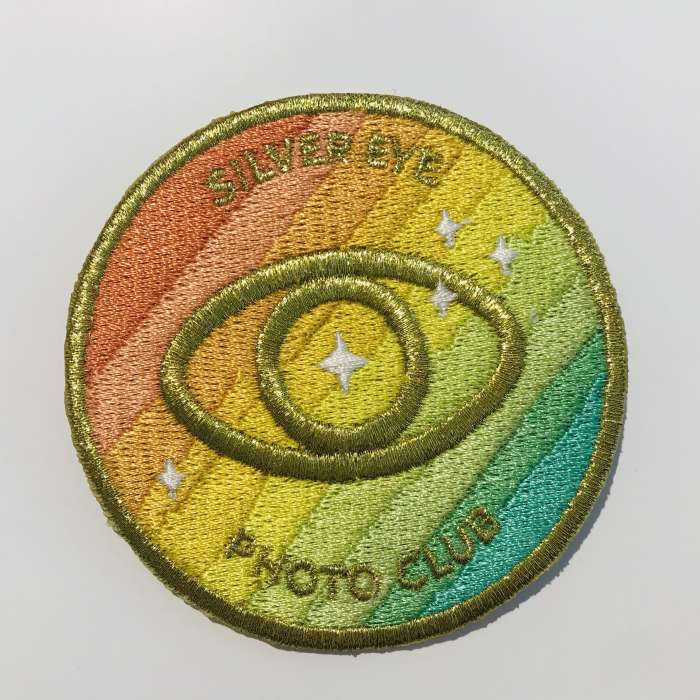 Join any time! $500 or more
Join Today!
Silver Eye Photo Club
dig deep / champion art / have fun
The Silver Eye Photo Club loves to connect with photography through deep, personal–and fun!–experiences.
The Photo Club meets five times each year to share a drink and bite (when we can) and visit artists' studios for frank conversations, go on candid exhibition tours with curators - sometimes even before they open to the public - and other events that explore photography's big ideas in ways that are meaningful, intimate, and accessible. Plus all Photo Club members get a sweet embroidered patch designed by Elana Schlenker!
Become a member with a gift of $500 or more to Silver Eye.
Exclusive Photo Club Opportunities!
A Silver List Round Table!
Online, May 20th, 5:30pm est
Photo Club Members can RSVP Here
Silver Eye is changing the way people think about emerging photography with the Silver List. It's not just us saying that, read about it here in Vanity Fair! Virtually meet the team behind the project, and several of the artists on the list for an intimate and informal conversation about how this list is shaping the future of photography. The round table will include Black List Founder, Franklin Leonard, Silver List Creator, James T. Wang, Silver Eye Executive, Director David Oresick, and several artists from the Silver List!
What I Learned: Sasha Phyars-Burgess
July 15th, 6:00pm est, Silver Eye
The opening of 2021 Silver Eye Fellowship Winner, Sasha Phyars-Burgess's artist statement reads: "I spent nearly 8 months in Austin, a west side neighborhood in Chicago. What I learned was this, it is very easy to sit from afar and look at a people and feel sympathy, maybe even empathy if you are good at it. It is much harder to sit with them and listen. It is much harder to understand that some life choices are not really choices at all. It is even harder to not pass judgement, to not turn to stone, but to sit, to pay attention and to try to just be." Join us for an online studio visit and conversation and learn about Sasha's work photographing, writing, and fighting for social and racial justice.
The Very Very First Look at Radial Survey, Vol. II
November 2nd, 7pm, Silver Eye
In 2019 the first edition of our Radial Survey biennial survey brought together the work of twelve incredible photographers working in a 300 mile radius of Pittsburgh. It was conceived not as an effort to identify a regional style or movement, but as a proposition: that working in this region encourages artists to engage with logics, flows, histories, and mythologies that differ from those defining the faster-moving densities of very large cities. The second edition will build on these ideas, with a new group of artists, and the Photo Club will have the chance to see it all before anyone else. Seriously, the paint will still be drying during a special guided tour with the curators and a few of the artists.
Photo Club Members
Sue Abramson
Alison Brand Oehler
Elizabeth Carter
Matthew Conboy
Ethan Copperman
Christopher and Dawn Fleischner
Carleigh and Kevin Graves
Tim Gyves
Laura Heberton-Shlomchik and Mark Shlomchik
Christine Holtz
Leo Hsu
Brian Lang
Alissa Meade
David Merritt
Barbara Weissberger