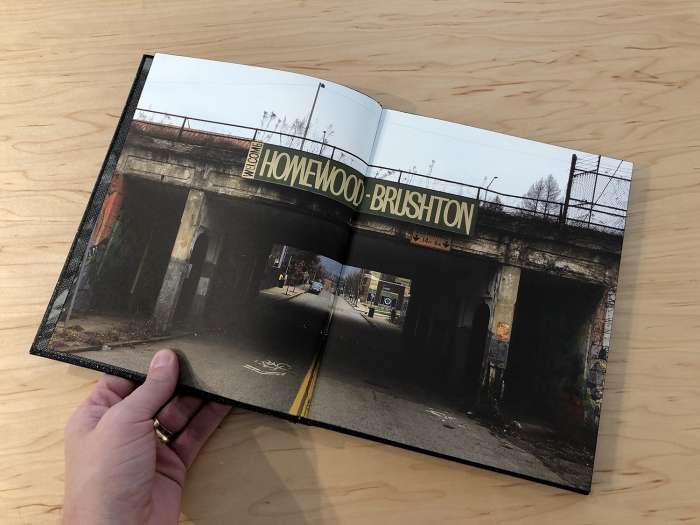 Wed, Oct 2, 2019,5:307:30 Homewood Library
7101 Hamilton Avenue
Pittsburgh PA 15208 Free and open to the public
$65 Register + one signed book
Book Launch
The People Are The Light @ The Homewood Library
Doors open for a 5:30 reception
Program begins at 6:15
Join Silver Eye's 2019 Artist In Residence, Alisha Wormsley, at the Homewood Library for an event celebrating the publication of her book, The People Are The Light. This event will feature a performance by Anqwenique Wingfield, readings by Yona Harvey, and a screening of the film The People are The Light followed by a brief artist-led discussion.
Proceeds from sales of the book will go to support project partners and organizations in Homewood that strive to bring wellness and care to the community , including Sankofa Urban Farm, Yoga Roots, House of Manna/HRA, and YMCA LightHouse project.
About the Book
The People are the Light is new publication by Alisha B. Wormsley that poetically documents a month-long series of public art installations and workshops held in Pittsburgh's Homewood neighborhood as part of the Hillman Photography Initiative. Centered on healing and cleansing, this book invites you to reflect on Homewood's past and present and see a vision for its future. Twelve artist-collaborators, curated by Wormsley, lead the events and performances that are documented in this book.
Artists in featured in The People Are the Light: Dina "Free" Blackwell, Nisha Blackwell, Ayana "Sade" Clarke, Yona Harvey, Robert Hodge, Joy KMT, Ayanah Moor, Bekezela Mguni, Staycee Pearl, Ricardo Robinson, Felicia Savage, Anqwenique Wingfield, Alisha B. Wormsley.
About the Author
For more than 20 years, Alisha B. Wormsley has created video, sculpture, photography and audio works. She is a teaching artist who has worked in communities around the world, helping to develop artistic ideas and celebrate identities, and has organized public art initiatives through national and international residencies. She is the creator of the ongoing There Are Black People In The Future project, Children of NAN, a film and video archive that serves as a metaphorical survival guide for Black women in America, and The Space I Am In, a multimedia collection exploring the mysticism and healing of Black women. Ms. Wormsley is adjunct professor of art at Carnegie Mellon University. And has a MFA in film and video from the Milton Fine Graduate School of the Arts, Bard College.
The People are the Light was published by Silver Eye Center for Photography and designed by Brett Yasko.
Major funding for this publication was provided by The Heinz Endowments and The Pittsburgh Foundation.