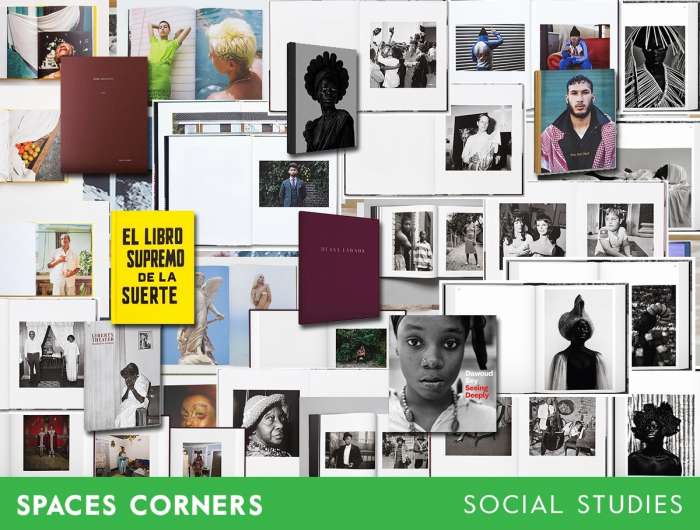 Nov 2, 2018–Mar 31, 2019 Spaces Corners Reading Room @ Silver Eye
4808 Penn Avenue, Pittsburgh PA 15224 Free and Open to the Public
Spaces Corners Reading Room
Social Studies
This reading room examines social documentary practices pioneered over 100 years ago by photographers seeking social and political change, beginning with the reformers and activists Jacob Riis and Lewis Hine. Social Studies turns to artists who have updated, revised, and redefined this tradition over the decades. Cultural and social realms are foregrounded in these works, providing a window into different lives and ways of living around the world. The books collected here reflect an urge to recognize ourselves, feel that we belong, and enact change to create a more just world. The photographers in this Social Studies are often members of the communities they have documented—giving a personal access of their own experience to a wider audience.
Social Studies includes books by: Carmen Winant, Carrie Mae Weems, Dagni Hagy, Dana Lixemberg, Dawoud Bey, Deanna, Lawson, Emma Kemp, Guy Tillam, Irina Rozovsky, Jo Ann Walters, Latoya Ruby Frazier, Mahtab Hussain, Mary Frey, Max Pinckers, Nan Goldin, Nicholas Muellner, Ofer Wolberger, Robert Lyons, Rose Marie Cromwell, Roy DeCarava, Steven B Smith, Tiane Doan na Champassak, Zanelle Muholi and other.
The Spaces Corners Reading Room @ Silver Eye is a rotating collection of influential and obscure photos books from around the world that explore a different theme in each iteration. The reading room is curated by Melissa Catanese and Ed Panar and past reading rooms are archived at the Lab @ Silver Eye. Visitors are welcome to browse and explore the reading room for free and selected books are for sale. You can explore the full Spaces Corners book shop online.