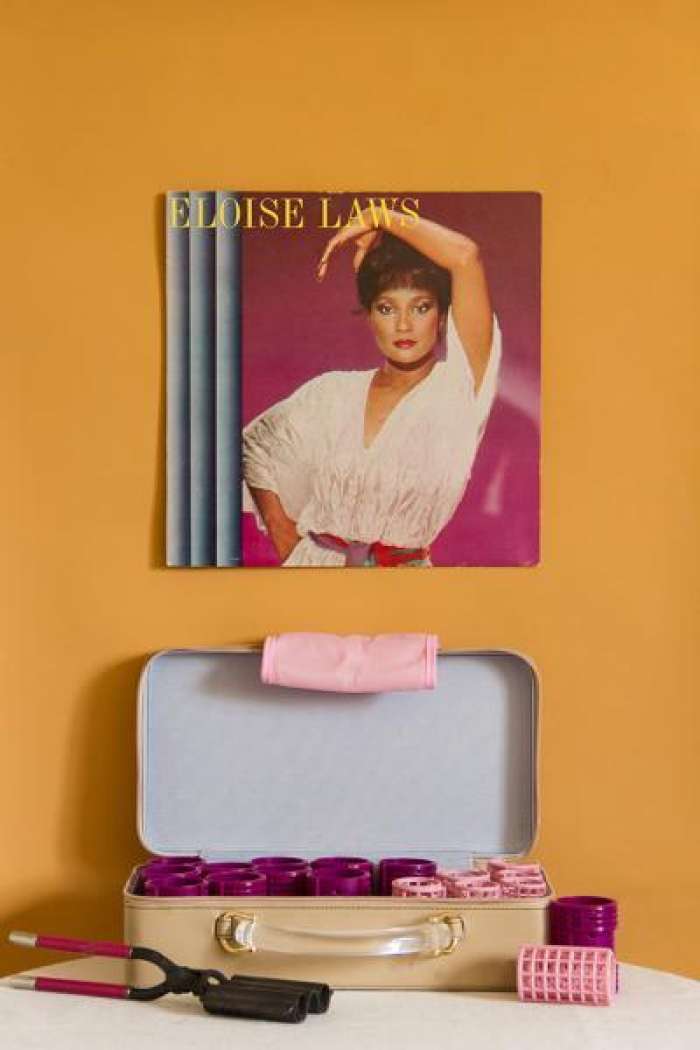 Tuesday evenings, 6-8pm, Jun 28–Jul 26, 2022 Online 250
Workshop
Still Life with Identity, [et.al.]
Take a critical new approach to the photographic still life and personal stories in this virtual 5-week workshop with artist Nakeya Brown. After identifying a 'focus prompt' - like identity, place, culture, gender, heritage, etc. - participants will search for and photograph personal objects - ones that are purchased, owned, consumed, observed, or inherited - that explore a larger theme.
In her own work Brown has been using the tradition of still life to recontextualize and reimagine histories and relationships by photographing simple household items and beauty products, often in colorful, nostalgia-laced settings. Using Brown's work as a touchstone, participants will be exposed to the technical and conceptual tools for thoughtful and successful still life photos.
Brown will outline basic technical skills including lighting control, framing, composition, and visual design, and will present inspirational still life works through readings and class lectures. Participants will share work they've made in the workshop during group discussions, individual meetings with the instructor, and a final presentation.
Recommended Equipment/Supplies
The workshop is adaptable for all skill levels. Participants are recommended to use digital SLR, mirrorless, or film camera as desired, and secure a tripod, external lights and modifiers, as possible. Participants will need assorted objects to be photographed, props, drapes, or other backgrounds, and a suitable location to make photos. More detailed technical information will be provided during the first meeting.
Workshop Schedule
This workshop meets weekly on Tuesday evenings, for 5 weeks, from 6/28/2022 - 7/29/2022. All times Eastern.
Pre-Workshop Reading
Week 1: Tuesday, 6/28, 6-8pm EDT
Introduction and Inspiration
Theme Selection
Assignment: Identify Objects
Week 2: Tuesday, 7/5, 6-8pm EDT
Discussion/Feedback: Object Selection
Technical Approaches to Still Life
Written Statement of Intent
Week 3: Tuesday, 7/12, 6-8pm EDT
Peer Review and Feedback
Week 4: Tuesday, 7/19, Schedule TBD
Instructor Review and Feedback
Week 5: Tuesday, 7/26, 6-8pm EDT
Final Critique
Participating Artist
Nakeya Brown was born in Santa Maria, California in 1988. She received her Bachelor of Art from Rutgers University and her Master of Fine Arts from The George Washington University. Her work has been featured nationally in recent solo exhibitions at the Catherine Eldman Gallery (Chicago, IL, 2017), the Urban Institute for Contemporary Art (Grand Rapids, MI, 2017), the Hamiltonian Gallery (Washington, DC, 2017) and The McKenna Museum of African American Art (New Orleans, LA, 2012); and in group exhibitions at the Eubie Blake Culture Center (Baltimore, MD, 2018) the Prince George's African American Museum & Cultural Center (North Brentwood, MD, 2017), and the Woman Made Gallery (Chicago, IL 2016 & 2013), among several others . She has presented her work internationally at the Museum der bildenden Künste (Leipzig, Germany, 2018) and NOW Gallery (London, U.K., 2017). Brown's work has been featured in TIME, New York magazine, Dazed & Confused, The Fader, The New Yorker, and Vice. Her work has been included in photography books Babe and Girl on Girl: Art and Photography in the Age of the Female Gaze. She lives and works in Maryland with her daughters Mia and Ella.