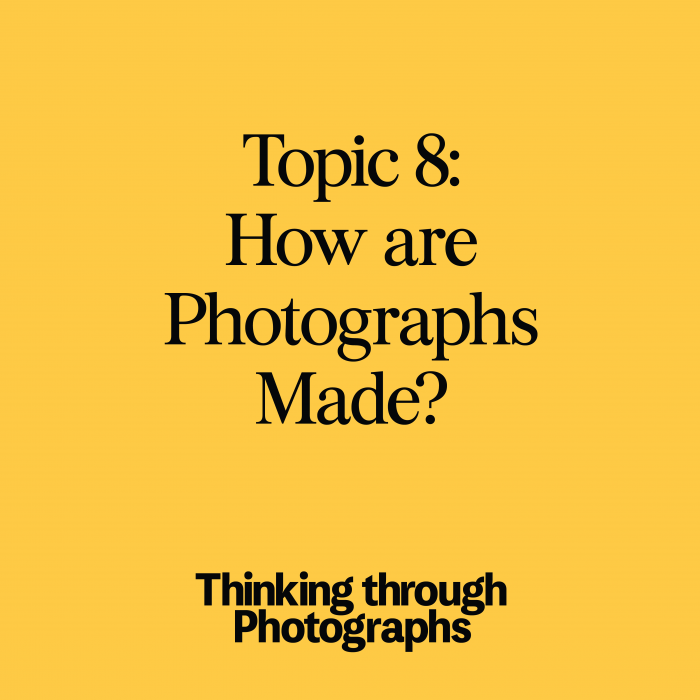 Tue, Apr 20, 2021,5:30 Online
Reading Group
Thinking Through Photographs Topic 8: How are Photographs Made
Topic 8: How Are Photographs Made?
Zoom Link to Join the Conversation
Tuesday, April 20th, 5:30pm EST
Facilitator: Artist John Opera, Head of the Department of Photography, University of Buffalo
For our 8th and final meeting of the year, artist and professor John Opera will lead us in a discussion centered around the foundational questions of how (and why) photographs are made. When artists can re-present, manipulate, remix, deconstruct and reconstruct photographs to narrate personal stories and to share intimate experiences and worldly observations, how do we grapple with the medium's ongoing ties to accuracy and truthfulness?
Readings
Joanna Zylinska, "Photography After Extinction" in After Extinction, 2018.
Jeff Wall, "Photography and Liquid Intelligence," in Jeff Wall, 1996.
You can submit a question or comment about this week's topic and readings ahead of time here
Thinking through Photographs was originally developed as an in-person exhibition by Liz Park, University at Buffalo Art Galleries curator, and now takes the form of a downloadable resource binder of texts which consider photography's complexities through eight different topics. Using the resource binder as a jumping off point, this free virtual reading group will meet regularly for eight sessions, covering one topic each meeting. A rotating group of guest artists, curators and writers will facilitate each meeting, bringing their own perspectives, specialties and selection of images for consideration along with the texts.