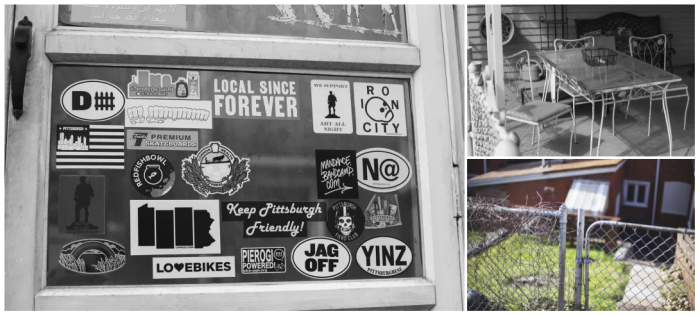 Mar 25–Apr 8, 2021 Online 125
Workshop
Walking for Pictures with Sean Carroll
The pandemic has forced us to focus our daily lives in new and challenging ways. This workshop encourages participants to take advantage of this isolated time by using photography to explore their everyday surroundings in or near their home, with the goal of fostering a regular photography practice.
"As the pandemic descended in Spring 2020, I began a ritual of daily walks with my family in our Pittsburgh neighborhood. Photos I made during this time evolved into 'Corona Walks', a satirical, but also serious, 'guide' for coping with the pandemic by taking a walk and observing one's own surroundings. Using this project as a jumping off point, the workshop will explore how we can use photography on a regular basis to parse and appreciate the visual world around us, especially as we face uncertain times."
During a virtual presentation and discussion we will review Corona Walks and other inspirational examples. Participants will conduct short photo exercises and share in group discussions. Ultimately, each photographer will conceive and photograph a simple, self-determined 'assignment', and meet individually with the instructor for project feedback, technical advice, and editing assistance. The workshop will reconvene virtually as a group so the participants can share their images for discussion.
Participants who complete this workshop will have the opportunity to show work they create in the exhibition Selections from the Silver Eye Institute in our main gallery exhibition in August of 2021.
Experience Level: Participants should be comfortable downloading images from their camera to their computer, emailing images, and organizing pictures for Zoom screen sharing.
Equipment needed: Any camera can be used for this workshop (even phones.)
Workshop Schedule
Session 1, Thursday March 25th, 6-8pm
Lecture, Discussion, and Walking Assignment
Session 2, 30 Minute Individual Feedback Meetings March 29th-April 2nd
Session 3, Thursday April 8, 6-9pm
Participants will each present their work for group feedback and discussion
Workshop Size: 5-10
Participating Artist
Sean Carroll is an artist using photography and video raised in coastal Massachusetts, now living in Pittsburgh. He received an MFA in Photography from Pratt Institute in Brooklyn, where he lived for many years, and teaches within the College of Fine Arts at Carnegie Mellon University in Pittsburgh.