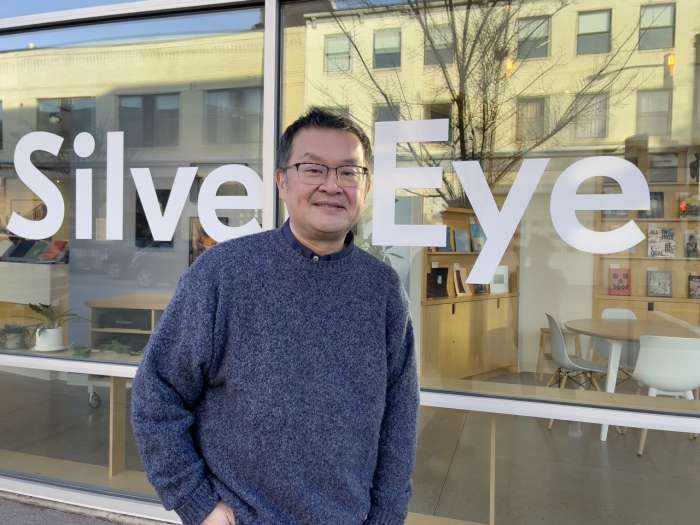 News
Announcing Leo Hsu as Executive Director!
Silver Eye Center for Photography, the Pittsburgh region's only nonprofit organization dedicated exclusively to presenting contemporary photography, today announced the appointment of Leo Hsu as the organization's new executive director. The announcement follows a nationwide search for the leader of the 43-year-old organization, which supports emerging and mid-career photographers through exhibitions, workshops and image production.
Mr. Hsu, who served as interim executive director since May 2022, is a managing editor at Fraction Magazine, and an instructor of photography at Carnegie Mellon University. He has written extensively about photography for national publications and is a talented photographer in his own right, producing work that examines the often-shifting experience of place, the power of identifying patterns in everyday life, and spaces where the private and public intersect.
He is a former board member of Silver Eye Center for Photography, and has curated several exhibitions for the organization, including serving on the curatorial team of the first Silver Eye Radial Survey, a 2019 biennial exhibition of preeminent emerging and mid-career photo-based artists working within 300 miles of Pittsburgh. He holds a doctoral degree in Anthropology and New York State certificate in Culture and Media from New York University, as well as a Master of Arts in the Humanities from University of Chicago.
"Silver Eye has meant so much to both me and to the contemporary art world over the years, inspiring artists, sparking conversations, and bringing world-renowned creativity to our region as well as shining light on some of the most creative artists in the region," said Mr. Hsu. "I believe deeply in the mission of promoting contemporary photography as a fine art and the representation of a diverse slate of creative voices. I am deeply honored to lead Silver Eye on this next part of its journey."
Silver Eye's deep roots in the Pittsburgh region began in 1979 as two separate organizations–Blatent Image Gallery, a local cooperative that gave local fine art photographers exhibition space, and Silver Eye Photographic Workshop, an entity that brought nationally-known photographers to Pittsburgh to exhibit and conduct workshops. The two organizations merged in 1985, becoming Silver Eye Center for Photography.
"Silver Eye has a deep connection to the creative soul of our region while also presenting the best of national talent in the fine art photography field," said Silver Eye Board Chair Kenneth Spruill. "With extensive experience and vision in both regional and national fine art photography realms, Leo Hsu is an excellent choice to lead us into a bright future."
Silver Eye moved into their current newly-constructed 4808 Penn Avenue location, which sits at the intersection of Pittsburgh's Bloomfield, Garfield and Lawrenceville neighborhoods, in 2017. The Center houses a gallery space, a schedule of education and workshop events, and digital photography printing lab, all accessible to the public. The organization's most recent executive director, David Oresick, led the organization from 2014 until spring of 2022 when he accepted a leadership position at The Mattress Factory.
Silver Eye currently features two exhibitions, by photographers Hannah Price and Zeal Eva. Hannah Price's Still Standing exhibition centers on large-scale images documenting the restoration of historic buildings in the Hill District and Homewood neighborhoods of Pittsburgh, including the August Wilson House, the National Negro Opera Company House, and the New Granada Theater, complemented by portraits of people living in these communities, The images were made while Ms. Price was an African American Cultural Heritage Action Fund Fellow with the National Trust for Historic Preservation.
Pittsburgh resident Zeal Eva is a visual storyteller who celebrates Black experience through her photographs that bring to life a nostalgic feeling of home, saying her Gentle Landing exhibition presents a visual representation of the "gentle transition of moments experienced, a celebration of ones passed and those left to come."
"Silver Eye Center for Photography has a rich and storied history of bringing powerful, imaginative, and important photography to our region and beyond," said Mr. Hsu. "I am excited to build and expand upon that history with our dedicated Silver Eye team, artists, and supporters."