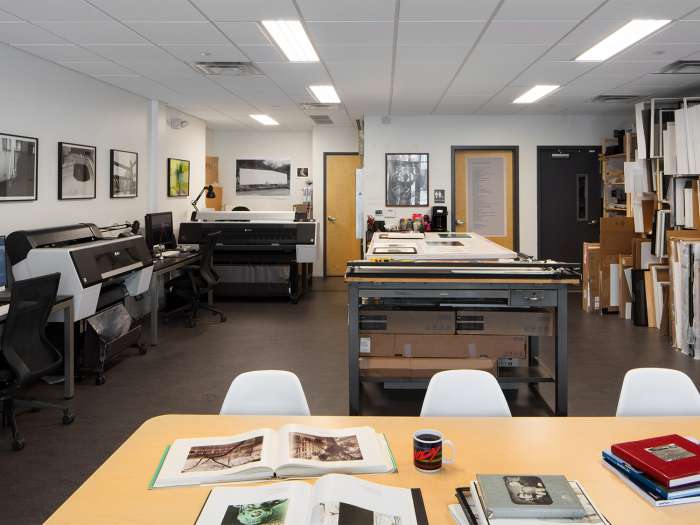 Oct 2–Sep 21, 2021 The Lab @ Silver Eye
4828 Penn Ave
Pittsburgh, PA 15224
Visit
Lab @ Silver Eye Open House
The Lab is our community hub and a professional - yet, affordable - DIY workspace with high-quality printers and scanners. We're thrilled to welcome everyone back to the Lab with expanded hours during evenings and weekends. We are actively seeking new members. Come say hello. Re-introduce yourselves to our community and our workspace. Consider how you or someone in your network could benefit from the Lab's equipment and services.
We'll have works on display by our Lab Assistants, as well as printing and scanning demonstrations.
See What the Lab @ Silver Eye Has to Offer
Membership! DIY access of all of our printing, scanning and framing equipment.
Services! Museum quality fine art printing, scanning, and affordable framing.
Workshops! Taught by some of the most compelling artists working in photography.
NEW Expanded Lab Hours
Mondays: 4-9pm
Tuesdays: 11am-5pm
Wednesdays: 11am-5pm
Thursdays: 11am-9pm
First Fridays: 5-10pm (during Unblurred)
Saturdays: 12-5pm
Sundays: Closed
The Lab offers experienced artists who become members unique access to our museum-quality printing, scanning, and print finishing equipment by reservation during regular weekly hours. The Lab is the only public workspace of its kind in the region, and it is outfitted with professionally maintained and calibrated printers and scanners and a clean organized workspace for a range of possible projects and uses.