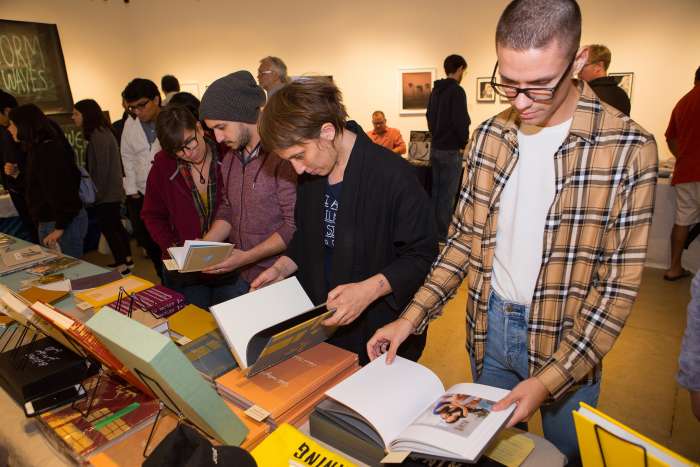 Fri, Oct 1, 5–9pm & Sat, Oct 2, 11–6pm Silver Eye Center for Photography
4808 Penn Avenue
Pittsburgh, PA 15224 Free and Open to the Public
Fair
The 2021 Silver Eye Book Fair
The annual Silver Eye Book Fair celebrates the beautiful, strange and utterly unique things happening in the world of photobooks. Shop the most innovative publishers, vendors, and artists from across the country. The fair also features presentations from the publishers and artists on their latest projects and panel discussions about the state of the art of photobooks.
During the Book Fair we will also be holding an Open House for the Lab @ Silver Eye where you can learn about all the Lab has to offer and become a Lab Member!
Proof of vaccinated is required to attend and masks must be worn while indoors. See our full COVID safety policy here.
Fair Dates + Hours
Friday, October 1, 5–9pm
Saturday, October 2, 11am–6pm
Events
2pm Travis Shaffer of the risograph atelier Theretherenow will speak to the application of risograph printing methods for photographic imagery
3pm Njaimeh Njie, This is Where We Find Ourselves book talk
4pm Join us for a Book Fair Show and Tell, and hear from each of the publishers and artists at the fair about which project or two they are most excited about
Book Fair Publishers & Artists
Light Work
Light Work was founded as an artist-run, non-profit organization in 1973. Its mission is to provide direct support through residencies, publications, exhibitions, a community-access digital lab facility, and other related projects to emerging and under-represented artists working in the media of photography and digital imaging.
Photographer's Green Book
Between 1936 and 1966 the Negro Motorist Green Book was a list of safe places for Black people during their travels through segregated USA. The Photographer's Green Book, in that tradition, is a list of resources to navigate the photographic community which has historically denied the voices of those other than predominantly white cis male artist. It expands on the original Green Book's target audience, to include the full scope of the People of the Global Majority as well as the LGBTQI+ community and all of their intersections. It is our belief that the contemporary moment, while influenced by the past, must also include the varying struggles and voices of those living in the 21st century. Inclusion, Diversity, Equity, and Advocacy are the core principles of The Photographer's Green Book, which guide the questions we ask, resources we build, and the engagements we partake in for our community.
Silver Eye Center for Photography
Silver Eye will have a selection of signed photobooks from Aperture, along with publications by local artists.
Spaces Corners
Founded in 2011, Spaces Corners is an artist-run bookstore and project space based in Pittsburgh, Pennsylvania. The bookstore stocks a rotating selection of new photography books from some of the world's leading independent and small press publishing houses. In 2013, Spaces Corners launched it's own imprint to further collaborate with artists, institutions and collections.
Spaces Corners will be presenting On Behalf of Yesterday: Hartford Art School MFA in Photography Class of 2021. An exhibition of photography books by Elijah Barrett, Tracy Chandler, John Ciamillo, Justin-Michael Emmanuel, Marc Katz, Rebecca Lee, Margaret Murphy, Juliana Roccoforte Novello, Tyler Roste, and Patrick Tsai. Find out more about the graduates here.
Visual Studies Workshop Press
VSW Press publishes books by artists, often in connection with work produced as part of our artist residency programs. Each title is made in collaboration with the artist in limited and open editions.
theretherenow
Theretherenow. is a risograph atelier founded in 2016 by Travis Shaffer centering on the application of risograph printing methods for photographic imagery. theretherenow's seminal publishing project, THERE, is a quarterly unbound publication pairing contemporary photographers with experimental risograph colorways. In 2020, theretherenow launched [color/shift]: a comprehensive research project to develop a catalog of experimental color models for risograph printing that specifically recall both the conventionally incomplete and beautifully distinctive color rendering of historical photographic processes and methods as well as working against the default color models of the digital workflow. theretherenow is currently housed in the School of Visual Studies at the University of Missouri.